Blood Pack
Personal Details

Real Name

Gender

Female

Alignment

Neutral Good

Status

Alive

Professional Details

Position

Sidekick

Partner

Superpowers

Unique Power

Appearances

Debut
Blood Pack (블러드팩, Beulleodeupaeg) is a supublic who recently gained her powers and also the daughter of the late CEO of Arondite.[2] She is Nightmare's new sidekick.
Appearance & Personality
Edit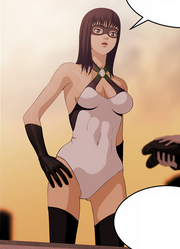 Powers & Abilities
Edit
Psychokinesis allows her to move things with her mind. The Forcebite allows her to gain her opponents strength and their abilities. She also gets more powerful when Darkslug awakens from the coma giving her new abilities because he has the First Prana.
Notes & Trivia
Edit
References
Edit